Restaurant Story™
1.6.0.3g
Cooking Game – Run Your Own Restaurant
If you have a passion for cooking and have aspirations of opening your own restaurant someday then this cooking game can prove to be a good learning experience for you. Restaurant Story TM is a fun game in which you get to run a small restaurant and serve your customers the most delicious foods and dishes. It puts you in the shoes of a chef who also has to perform the job of managing the restaurant. You would not only have to prepare the dishes but also ensure that the restaurant has the proper seating arrangement for the customers pouring in. Thus, time management is of the essence. You need to make sure that you get the dishes ready and served on the counters before the customers come in.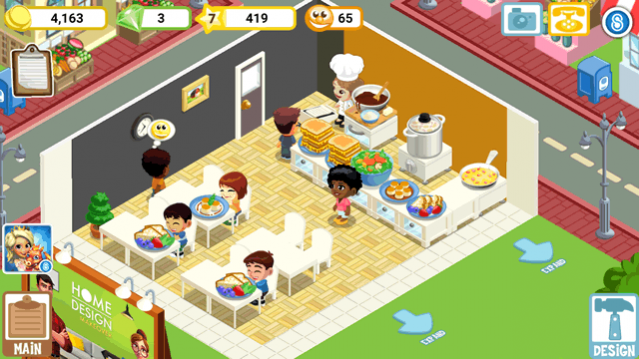 Restaurant Story has smooth gameplay which is complemented well by nice graphics. As far as the controls go, they aren't that difficult to understand. You just have to tap on the ovens and stoves multiple times to prep for dishes and then wait for them to be cooked. Once the dishes have been cooked, you can serve them on the counters with a simple tap on the stove or the oven. The customers will come and take the food they want from the counters. When they leave, they will pay for the food they eat. You have to make sure that all the customers that come in are satisfied with the food you serve. To ensure this, you need to continue trying new recipes and always have dishes served on the counters.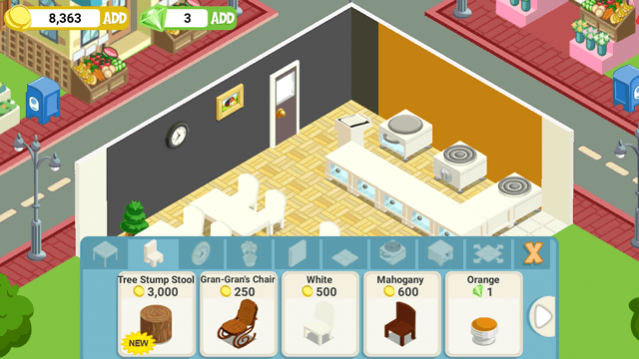 This cooking game allows you to make a variety of different dishes. The recipes of these dishes can be found in the cookbooks provided to you. You can load a cookbook by clicking on any empty oven or stove. In these cookbooks, you will find recipes for breakfast, lunch, and dinner as well as mouth-watering desserts. Each dish requires a specific amount of time to be prepared. If you want to finish making a dish quickly, you need to spend diamonds. However, it is important to not waste your diamonds as they don't come by so easily. Aside from serving food, you have to decorate your restaurant as well to make it appealing for the customers. There are various decorations items available that you can use to decorate your restaurant.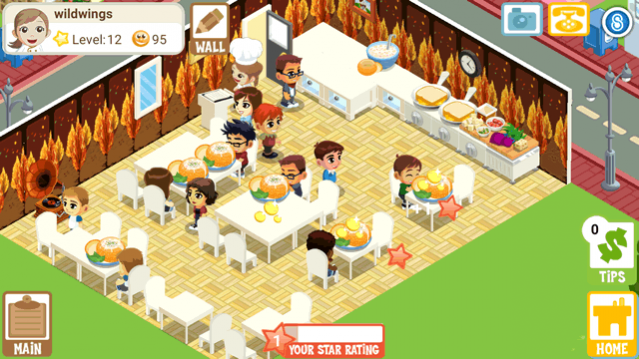 Restaurant Story lets you expand your restaurant as well. Restaurant expansion requires spending in-game money but allows you to serve a larger customer base. As your restaurant grows, you will have to place more appliances, counters, tables, and chairs to meet the growing demands of the customers. You will also have to improve your restaurant's decorations. If you want some inspiration for designing your restaurant, you can visit your neighbors. You can see how they have designed and decorated their restaurant and apply some of that design to your restaurant. This cooking game provides many goals to you as well. Completing these goals can help you in progressing and gaining experience. This is crucial for leveling up and unlocking new game content.
Features:
Lots of delicious recipes to make
Serve your customers the best food
Make sure the customers remain happy
Buy ovens and stoves to make the dishes
Invest in counters to serve the food
Place tables and chairs for the customers to sit
Decorate the restaurant with tiles and wallpaper
Hang decorations on the walls
Complete goals to continue progressing
Expand your restaurant by buying more land
Visit restaurants of neighbors and leave tips
Conclusion:
Restaurant Story TM is a gaming app which will primarily appeal to people who love cooking and want to run their own restaurant. It allows them to be the head chef and manager of a small restaurant and upgrade it to become a five-star restaurant that serves all types of cuisines to its customers. It is a cool cooking game and you would enjoy making and serving new dishes to keep your customers happy.
---
Add a review
Tell us your experience with
Restaurant Story™
1.6.0.3g
RELATED PROGRAMS
Our Recommendations
---
---
---
---